80% of Campers Need A Large-capacity Portable Power Station
Feel free to bring your drone, camera, juicer, induction cooker, electric oven, and mini refrigerator to camp. With an Enernova S1000 high-capacity generator, more gadgets can be brought!
Enernova Smart 1000 is equipped with a large capacity of 324000mAh/1166.4Wh, which can meet most of your power needs, whether it is for office use, home use, outdoor travel, or emergency power outage.
S1000 also can be upgraded to a Solar Generator 1000 system with two Enernova 100W solar panels. Now during the campaign period, Y branch parallel adapter will be given away.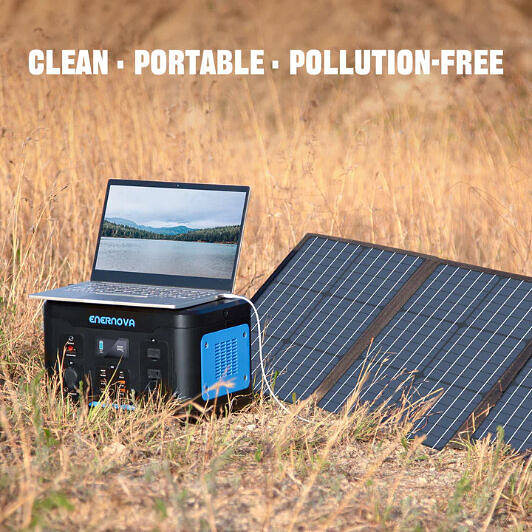 Now let's take a look at the outputs port of S1000:
Up to 12 outputs, we set up 4 USB ports and 2 Type-C ports because we consider that many of the current electronic products are USB or Type-C ports. This allows you to take fewer charging cords on camping or day trips and reduces the amount of gear you need to carry, while also saving space and weight.
If you care about how long will PEP-S1000 takes to power your devices, the form below may help:
Sometimes going outside to embrace nature does not have to be completely free from those small appliances that can bring you joy in city life. With a projector/juicer/drone, I believe you will have a much more fun camping experience! The ENERNOVA S1000 is the best choice to help you achieve this pleasant plan, because it is a very cost-effective portable power station. It covers almost all the features of other brands' portable power stations on the market, but with a cheaper price than other brands.
If you are interested, you are welcome to visit our official website at:https://enernovatech.com/products/enernova-smart-1000-portable-power-station
Or
Amazon store: https://www.amazon.com/gp/product/B09SZ349TL/ref=ewc_pr_img_2?smid=A1HGN3RZF6KF6S&psc=1
Take a look at the detailed description. We are always waiting for your visit!
Please enter your details in the form. We will get back to you as soon as possible.